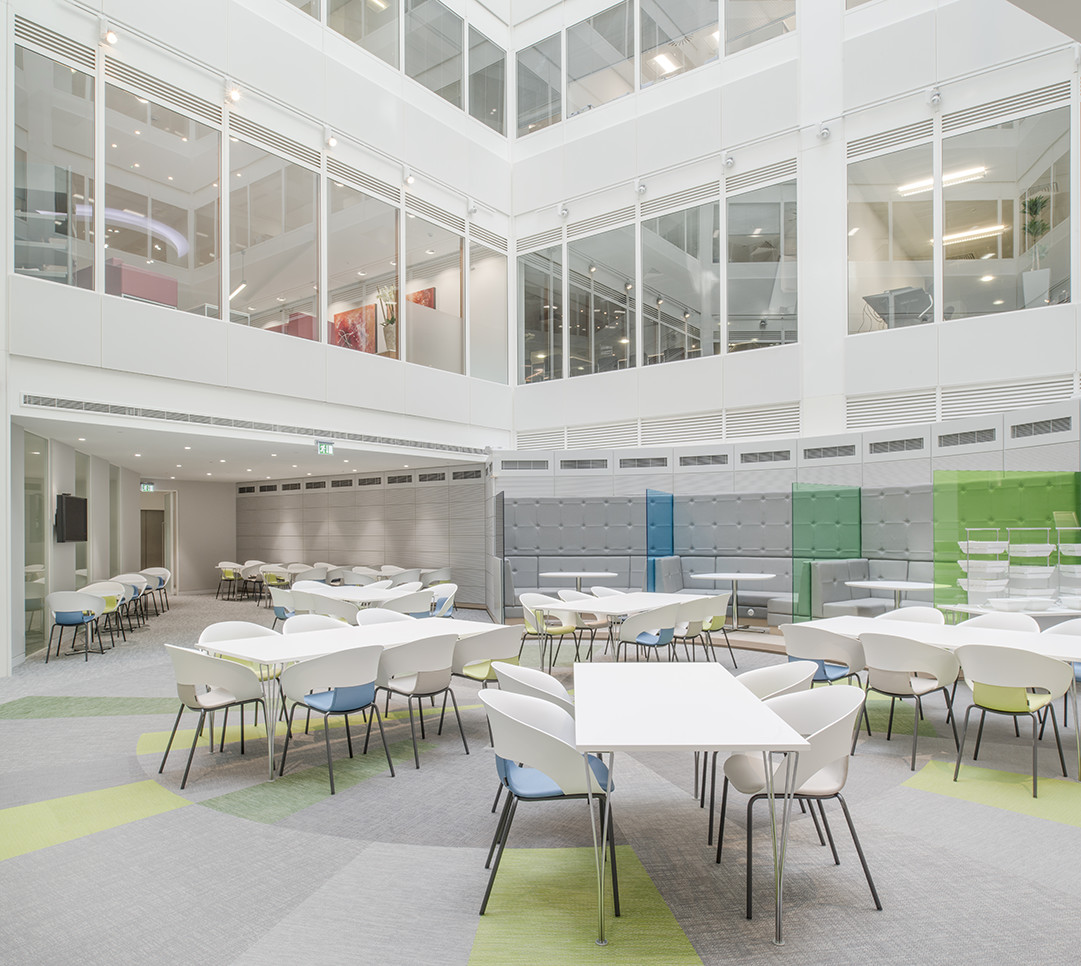 Having worked with a law firm recently, we were interested in the drivers for their workspace decisions. We therefore talked to a number of firms, both UK and US-based, and have noticed a greater appetite for 'going open plan'. Engaging with clients early in the process, whilst they are still considering their options and their ultimate vision for their office, is crucial in ensuring the final work space exceeds their expectations. By introducing new ways of working, lawyers can benefit from the greater use of space open plan offers, yet still maintain the option of a private office when the need arises.
Maintaining the Status Quo
We are used to Lawyers operating in cellular office fit outs and, whilst there are some exceptions, what are the reasons cited for maintaining the status quo?
Tradition – It's the way it's been for years, lawyers have always worked that way and like to tuck themselves away
The power of the partners – The more traditional partners tend to hold sway and are often resistant to change
Prestige and recruitment – It's a status symbol, you have your name on the door. New recruits are thought to like this idea and so it may help recruit the highest flyers
Peace and quiet – to read documents and take phone calls
Confidentiality – Clearly this profession has the need to ensure private information remains so
One Partner I spoke to supports the retention of the traditional office set up, saying that
"legal work does not lend itself to collaboration as well as some other professions and so the benefits of open plan working are far outweighed by the detriment of being distracted by others' conversations."
However, the Partner also told us that as a firm they do have a more or less 50/50 split between cellular and open plan working, yet despite this they did not achieve higher levels of occupancy because their fee earners still expect a reasonable amount of working space around them and space for storage of their boxes of documents.
However, he did concede that "there is a desire among lawyers for more interesting workplaces including coffee areas and break out rooms, given the amount of time they tend to spend at work."
Rebecca Palmer, an Associate at Prettys law firm in Ipswich says: "We are actively considering open plan as an option. Our Chelmsford office is open plan and more traditional partners visiting this office can have first-hand experience of the difference. Open plan environments facilitate communication and sharing of knowledge, help training and supervision and general interaction. Older offices can be more difficult to configure to open plan. However, the modern free standing furniture options provide an ability to move the office plan to a really modern and interesting layout, whilst allowing some quiet space for confidential and concentrated work, possibly without telephone facilities." She continues: "Our CEO has come from a previous professional environment where he experienced the transition and has fully bought into the concept."
A Change in Thinking
Indeed we also found open plan offices for other lawyers is more common in the regional offices.
So what's prompted this change in thinking and why are we seeing a move towards a more open and collegiate work space?
Evolution: All things change in time and many law firms are seeing the benefits of a new way of working. Do the younger generation see the offices as stuffy but nonetheless not want to be seen to break ranks with their seniors? There is an argument that open plan breaks down such barriers and old hierarchies that may restrict progress and efficiency? Are people in fact more productive in a livelier more modern environment where they can work with agility?
The power of the next generation: This workplace environment does not necessarily suit the younger and more progressive members of the firm and in fact they see that this can hold back progress in the firm. Is the partnership model the enemy of progress in this respect? Why should a few traditionalists trump the economics of progress and change?
Getting the job done: Are the new generation of lawyers really bothered about being cooped up in offices? Why sit cocooned in one and miss out on the wider human interaction and those water cooler/coffee machine moments? If you can't see your colleagues at the tea point you're less likely to grab a chance for an impromptu discussion and will seek more formal meetings, which can be hard to arrange and time-consuming.
Adapting to change: All professions can read confidential material and make calls in an open plan space, it's just another excuse. And in any event purpose-built rooms can be constructed for this if need be.
Collegiate approach: The issue of confidentiality rather ignores the professional ethics that must exist. Shouldn't lawyers treat each other as part of the same firm with common interests. If something must be treated more discreetly, rooms can exist for that purpose. In fact, the opposite of keeping everything within such a confine is to share and collaborate and to be able to cross-sell. Is it one firm or a series of mini firms called departments?
Mayur Patel at law firm RPC agrees, commenting:
"When we moved into one building in 2006, our CEO drove change in the firm with an ambition to break down hierarchical barriers, increase cross selling, improve collaboration and develop a greater sense of team spirit.  Open plan offices support this business case much better than the traditional cellular space."
The Economic Argument For Open Plan
Other factors are also in play here, that perhaps contribute towards this more contemporary approach, not least the economic argument that is becoming a hard reality for all firms
Office space is increasingly expensive
Cellular space is far more expensive to fit out and this cost had to be found from the firm's revenue, thus affecting profitability and competitiveness
Cellular offices take between a third and twice as much space, so require a much greater rent, rates and service charge. This cost negates profitability and not only competitiveness but also potentially remuneration
Open plan enables more flexibility in the workplace as teams change, shrink or grow, this is particularly relevant when different departments form teams on major legal projects
It is far cheaper to refresh and upgrade an open plan space
The maintenance overheads of open plan space are cheaper as there is less material to maintain e.g. doors and fewer mechanical and electrical items that can go wrong
Finally, when the time comes to leave a building, the dilapidation costs on open plan are considerably lower

In summary, we have seen a definite move towards a more modern and collegiate office configuration with our most recent clients in the legal sector. We believe that engaging with clients early on ensures the project is a success, as the ultimate vision is researched and understood and, crucially, the concept is bought into by the firm as a whole. This way all employees embrace the changes that are being made and contribute towards their final fruition. Happy staff ensure productivity remains high and the firm can continue to flourish and move towards the next stage of its growth agenda.