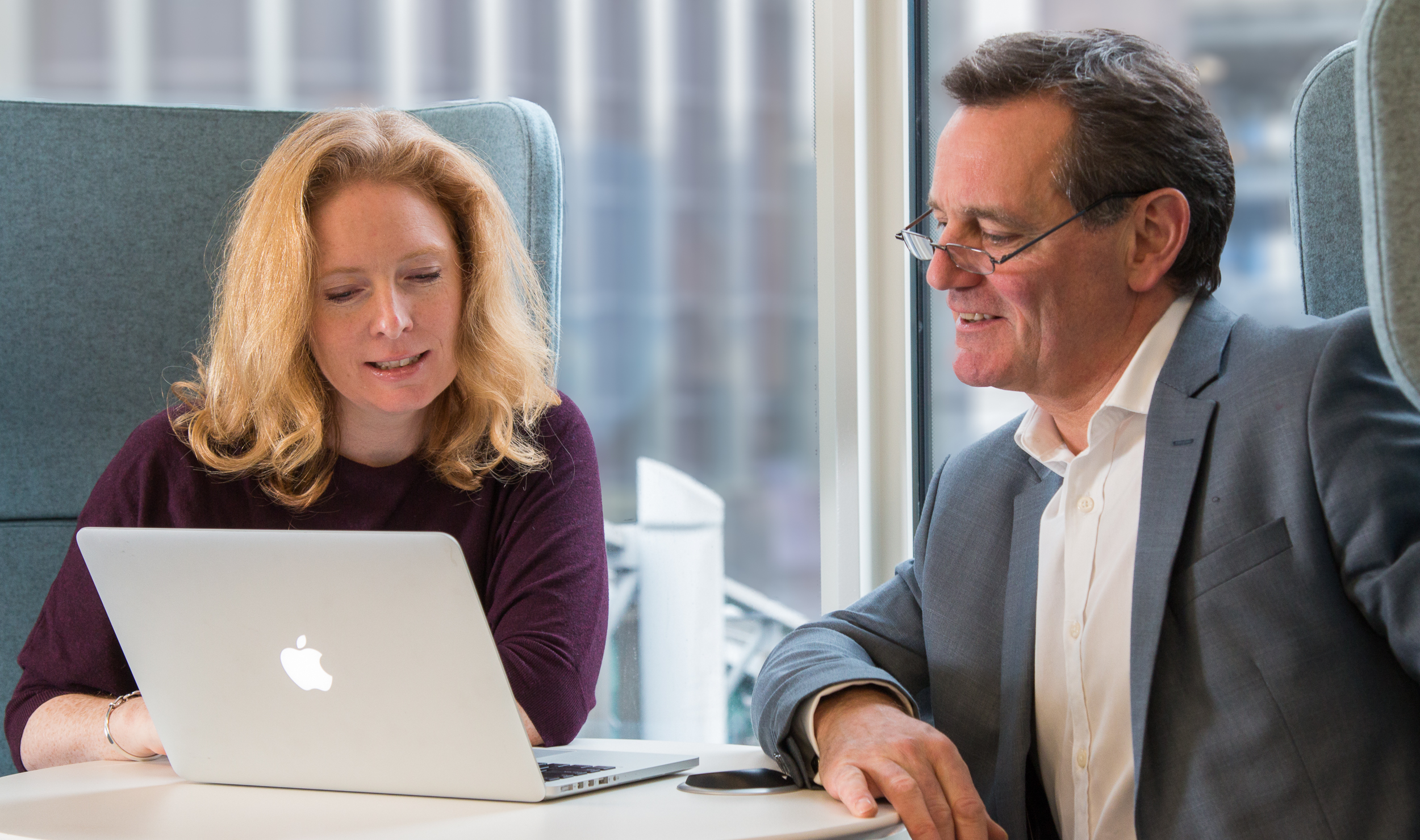 You know you have an occupational Real Estate project looming, you don't know whether to move or refurb, to increase space or decrease space let alone how much it will cost or how you really should go about it. But you do know you have a project on your hands. So, why not start with the role that is there to orchestrate all the constituent parts and parties?
The Client Representative Project Manager, or as it's known for short, the Client Rep PM
If engaged early enough Client Rep PMs work with an organisation and indeed within an organisation from the starting stages of requirements definition and feasibility, working alongside building search agents, procuring and appointment of the design team, development of design and identification of change management, into tender and appointment, construction and fit out, and finally relocation and settlement. So why is it that companies typically hire their PM about a third of the way into the project rather than at the outset?
The DIY approach…
Few SME and even large size companies retain in-house property project management because these projects are so occasional. Alternatively, if the experience does exist it is often at a senior level within the real estate and FM team and is monopolised by the day job. From a distance, property projects can appear deceivingly simple and that the work just gets done by the teams hired in. An agent for space, an architect for design, a contractor to build. In reality, property projects require considerable and consistent co-ordination of multiple internal and external teams and will demand fluctuating levels of time and attention from the organisation from start to finish. The DIY casualties we most frequently encounter are:
Projects assigned to time starved individuals
Projects assigned to junior employees not able to secure required time and attention from key decision makers
Projects assigned to individuals from teams that have little understanding of property and change management e.g. legal, finance and HR
A belief that the design teams involved would manage it all…
A client Rep PM is the only role that will manage the full scope of delivery, cost and effort for you and your property project.
A typical Property Project Org model showing governance and delivery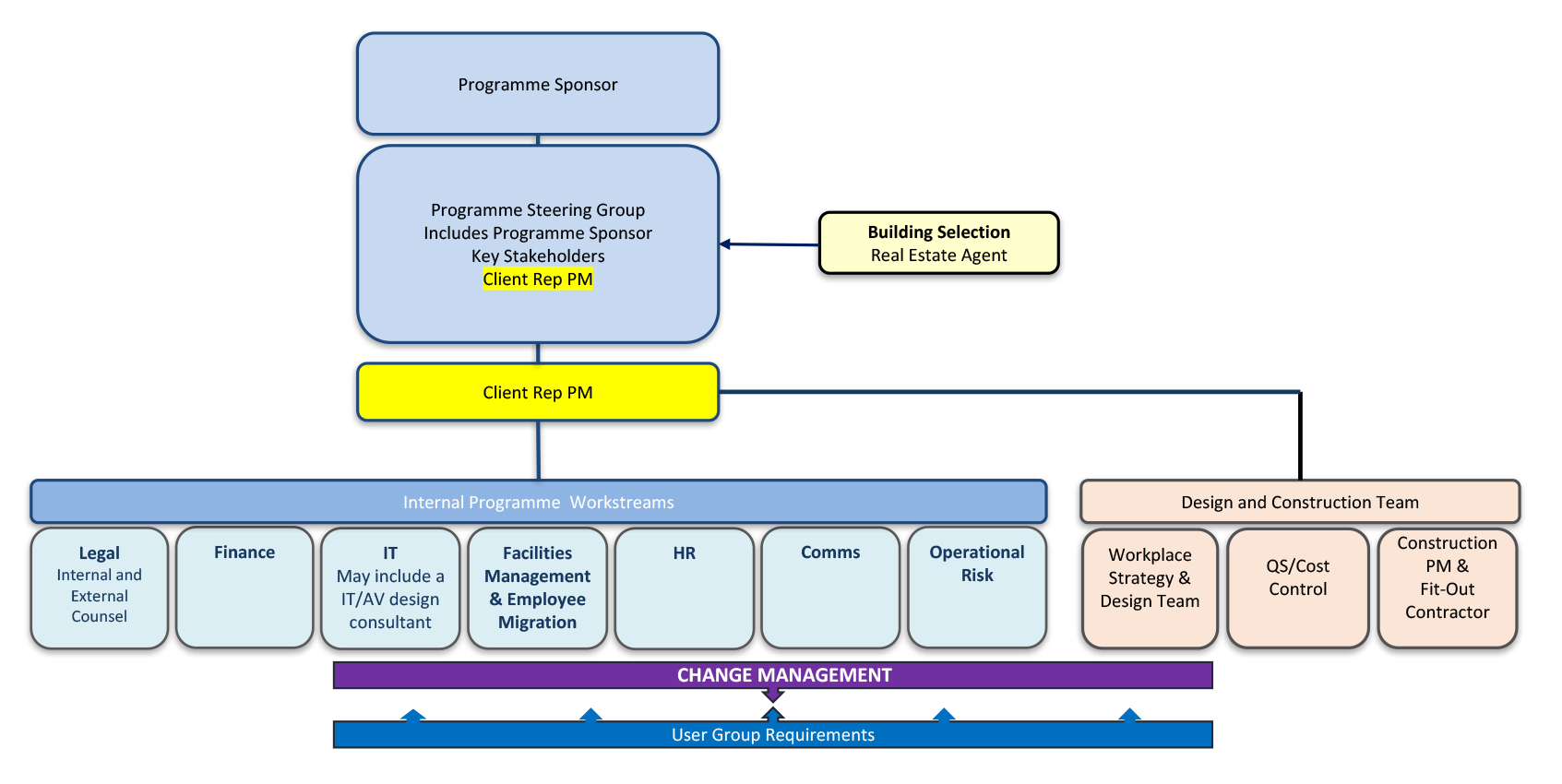 Fear of Cost
Property projects of course pose not only substantial investments of time and resources but also cash. Even small property projects, under 15,000 sq ft, can carry budgets in to the £100,000s and it's only a few more thousand sq ft before they start nudging the million mark. This is an investment that hits your bottom line substantially even when amortised over the life of the lease. With shorter leases becoming more common this can prove a more substantial year on year cost. Focus on costs from the start provides more opportunity for saving and efficiency. Reps Project delivery experience time and again sees the Client PM fee get recovered by preventing delayed delivery, duplicated effort, efficient procurement methods and challenging design and construction teams to get to the same results by less expensive means.
Not knowing we're out there
The Client Rep PM role has only started to get serious recognition from the property industry in recent years. Reps has been in business since 2010 and at that time there were very few PM practitioners in the market offering a full end to end project management service to occupiers. It was in fact with the design and construction teams that the role's value was most rapidly acknowledged. Design and construction teams are not based with their clients and often struggle to get the time and attention required to meet delivery deadlines. A Client Rep PM provides a constant point of contact to manage queries, issues, decisions on behalf of and with the client. This enables the delivery teams to progress at the pace the project requires. It's now increasingly common that design team professionals will ask a client to have a PM to support the client input and full co-ordination of effort for project delivery.
Requirements first, not solutions
Ahead of space search and architectural design, a Client Rep PM will work with the sponsors and key stakeholders to understand the organisations near-term and strategic requirements for its new space. A clear set of requirements agreed by the Programme Sponsor and key stakeholders is the optimal start to achieving an organisation's ambitions and priorities for space, design, and operational capability in the new workplace. Everything that follows from building search through design and into construction should be underpinned by a focus on these requirements and their associated benefits. The Client Rep PM is your trusted aide in understanding those factors and ensuring that the project team reflect these, whether its style, cost or timing from the start of the project through to occupation and business as usual in the new space.
Our Clients have fully understood the importance of having a Client Side Rep PM in from the start of the project, we hope that this blog post has given you a clear insight into why you should too.
Here's what some of our clients had to say:
Lisa-Jane Risk, Director of Group Property, Towergate Insurance (project delivered March 2017)
"We engaged Reps from the very start of our London relocation project, meaning we had the benefit of their knowledge, expertise and project management skills throughout. Working with key stakeholders across the business from the early stages to define our requirements for our new space, Jerry and Caroline took the time and effort to understand our ambitions and priorities in order to help determine design and ensure we were able to maximise operational capability once we were in our new office environment. 
"Acting as a constant point of contact to manage and co-ordinate queries, issues and decisions across multiple internal and external teams, throughout each project phase the Reps team had a consistent focus on delivering our requirements whilst all the time keeping the project on schedule and budget. Offering advice and support beyond the reach of their project management remit, the smooth transition into our new office, with everyone being up and running in no time at all on 'day one', is in no small part due to the input and expertise from the Reps team."
Nigel K Dentoom, CEO, CCBI Metdist (project delivered January 2017)
"We were pleased to have the professional help of Reps in achieving our goal to move into 111 Old Broad Street and to benefit from their detailed knowledge of the building and their knowledge of quality suppliers for this type of project."
Dave Greening, COO, Watson Farley Williams LLP (project delivered 2016)
"Reps worked diligently in challenging circumstances to protect our interests and have continued to provide a good after-sales service, ensuring the move was executed efficiently so that staff were able to settle in quickly to their new work space."
Anne Le Stanguennec Tikehau Group (project delivered 2015): 
"Reps delivered this project professionally, understanding our vision and objectives and working with us to ensure we were fully operational and staff were confident in their new workplace environment."
David Ross, CEO (2005 -2015), Arthur J. Gallagher International (project delivered 2014 & winner of BCO UK workplace fit-out)
"Jerry and Caroline from Reps have taken our real estate procurement to a whole new level of professionalism. As Directors of our London Relocation Programme they led a multi-disciplinary project team that worked tirelessly to relocate 650 of our people into our new London headquarters as the first major tenants of the prestigious Walbrook Building. The success of this move was self-evident and passed the biggest test there is: within 30 minutes everyone was fully operational and everything worked just as it should."
SaveSave
SaveSave