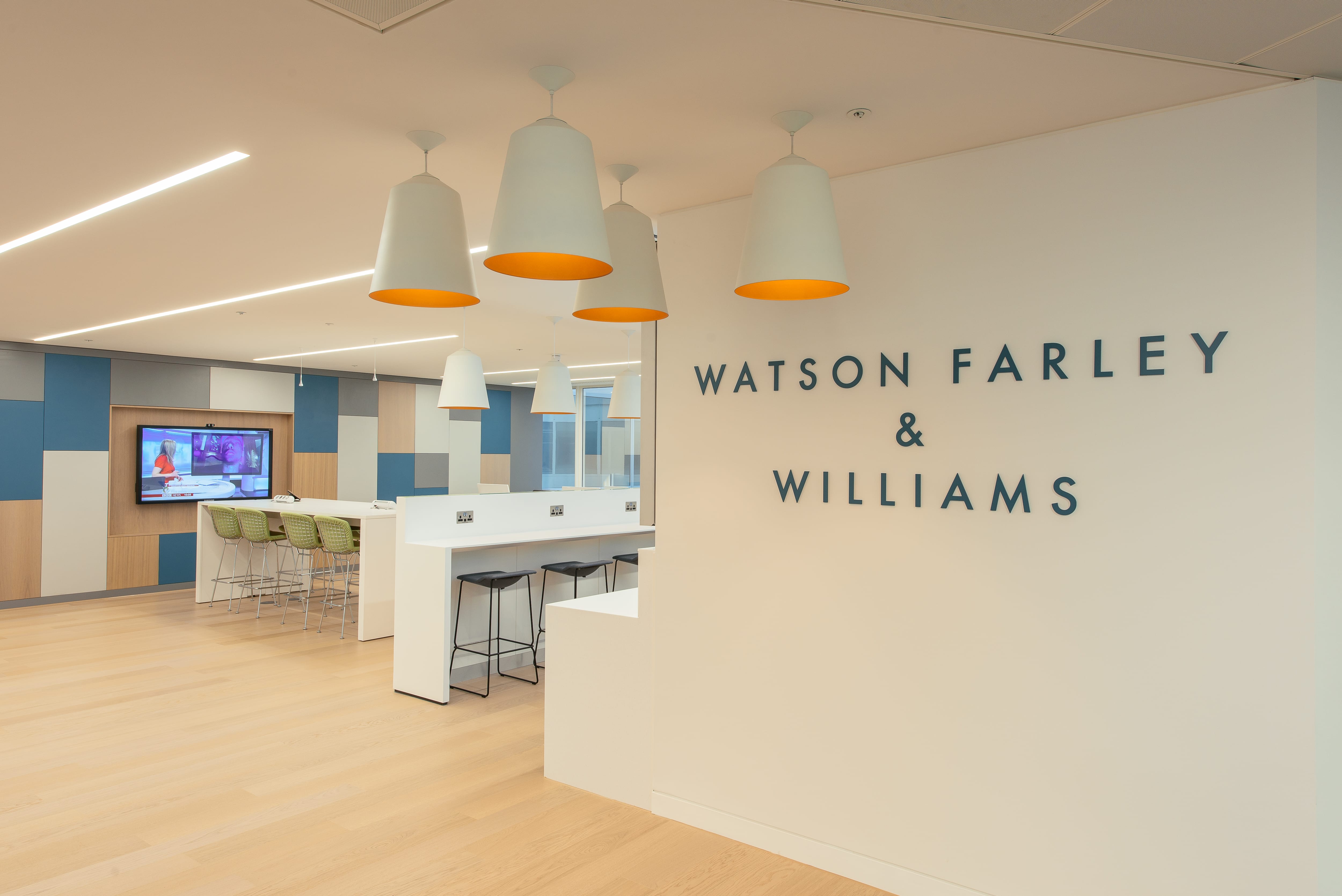 Reps are delighted to announce that their client, Watson Farley Williams, have completed refurbishing their offices on Appold Street, EC2. Having stripped out and re-fitted the entire 4th floor and substantially refurbished the other 4 floors totalling 74,000 sq. ft., we have delivered an exceptional space for this international law firm and their Partners, Associates and clients. The refurbished offices were designed specifically to meet WFW's future aspirations for their work space. The fourth floor has a full client and meeting suite, whilst the other floors benefit from central hubs, which enables greater staff collaboration. A new staff café was created within the atrium.
The offices are also fitted with new, resilient MER cooling systems and an extensive Audio Visual package in the meeting rooms. The AV package offers a range of different communication capabilities, including Skype for Business.
We worked as Project Manager for WFW, working solely on behalf of our client. Part of our remit included tendering for the main contractor for the project and also the furniture contract, but our main focus is always to ensure a constant and well managed channelling of communication between the chosen contractors and the firm and its employees.
Caroline Pearce-Browne, Director, Reps comments: "The successful delivery of corporate relocations must be planned down to the smallest detail if it is to be a seamless move for the organisation. Furthermore, having systems in place to settle staff into their new working environment is critical to the happiness and productivity of employees once the move has been completed."
Jerry Williams, Director, Reps said "The project was not without challenges, but we managed these well and successfully resolved issues when they arose. The organisations in the legal services sector tend to be structured differently; most of them are partnerships, so it is vital to be able to obtain consensus with a larger than usual number of stakeholders. We enjoyed working with WFW and are pleased they can now enjoy a work space that is both visually and technologically cutting-edge, ready for the next phase of their growth agenda."
Dave Greening, Watson Farley Williams says: "Reps worked diligently in challenging circumstances to protect our interests and have continued to provide a good after-sales service, ensuring the move was executed efficiently so that staff were able to settle in quickly to their new work space."